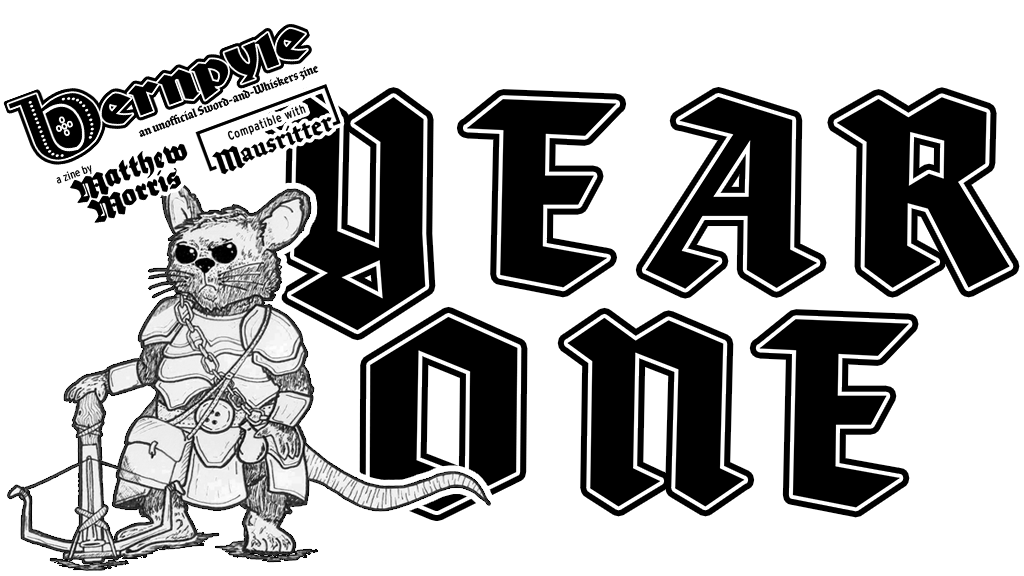 Bernpyle YEAR ONE (Kickstarter Digital Files)
A downloadable Bernpyle YEAR ONE
Bernpyle has been a every-other-month Mausritter zine in publication since October 2020. The story of Bernpyle is simple, it was a dream turned hobby and then a hobby turned passion and from there it has become, well, it has become a joy!
When COVID 19 and the quarantines forced all of our lives to change, many of us once again started playing more Table-Top Role Playing Games, it was in the indie scene that Mausritter by Isaac Williams was discovered. Just like, the world had a new expression of adventuring. The Discord community that Mausritter fostered gave birth to some amazing third-party supplements and Bernpyle was one of the firsts. Since then the community has boomed and Mausritter has already launched two Box Sets and there are 100s of fan made, third-party adventures.
To date, Bernpyle has a total of six issues and this project in the YEAR ONE anniversary anthology of these zines.
Mausritter is a rules-light fantasy adventure RPG where players take up the sword and don the whiskers of a brave mouse adventurer.
It's a huge and dangerous world out there, and it does not look kindly on a small mouse. But if you are very brave and very clever and just a bit lucky, you might be able to survive. And if you survive long enough, you might even become a hero amongst mice.
Check it out here and purchase this amazing game: Mausritter.com
Here within the pages of Bernpyle YEAR ONE you will find the best parts of all the previous issues of Bernpyle. You will find crowd favorites like, A Not So Stille Nacht, and amazing art from Skullfungus, GnarledMonster, L.F. OSR, PerplexingRuins and Salvaterra. But this book hold way more than just these!
Inside this book/zine:
a regional Hexcrawl of the Earldom of Bernpyle
eight Adventure Sites and Locations featuring A Grizzly Revelation at Badger Burrow and Murky Mysteries of Mice in Marshes.
six new Alternate Mechanics and Rules inspired by games like Electric Bastionland, Veins of the Earth, Cairn, Mork Borg and even Dungeons and Dragons 5e
new Weapons, Spells and Magic Items
two new Playable Species; spoiler, they are not rodents...
and many, many random tables.
Writing has been done by Matthew Morris, better known in the Mausritter community as ManaRampMatt. He also did some of the artwork and curated the public domain images.
Artists featured include:
GnarledMonster, Alex Damaceno. Alex is a Brazilian game writer and amazing artist best known for Beyond the Borderlands, a hexcrawl inspired by the adventure Keep on the Borderlands (B2). His art was featured in Bernpyle #3 The Battle of the Frogs and the Mice. His artwork and storytelling was featured in the recent official Mausritter Kickstarter.
PerplexingRuins. The artist extraordinaire, their works include the adventure module Darkness Moves for Cairn and the card-based game DrawRPG. Their illustrations have appeared in Bernpyle #4 Mork Maus.
Fernando Salvaterra. Illustrator, RPG Content Creator. He is a Brazilian freelance illustrator and writer with an interest in tabletop roleplaying games, cartography, random tables, mysterious trinkets, travel stories, and strange places.
L.F. OSR. Aside from creating original artwork for fantasy worlds, L.F. OSR has recently started a new journey designing game-able content for role playing games, producing original supplements, and supporting the indie tabletop roleplaying game community. His artwork and storytelling was featured in the recent official Mausritter Kickstarter.
Skullfungus. map-making guru and illustrator from Sweden. Known for his weird monsters and minimalist-dungeon designs, he also is a regular contributor to Night Yeast zine. His artwork and storytelling was featured in the recent official Mausritter Kickstarter.
Nate Treme is a game designer and awesome artist from Louisiana. In 2020 he won an ENNIE with Tunnel Goons. He wrote and illustrated an adventure for the official Mausritter Kickstarter and will be doing character art for this project!
Francesco Zanieri is an amazing artist of comics and RPG Fantasy art as well as creator of some very impressive character sheets for games like Cairn and Heartseeker. I am excited to announce that Francesco will be doing a custom, Bernpyle themed, Mausritter character sheet for this project!
Lux, is a artist and illustrator who has been highly active on the Mausritter Discord for well over a year. Known for the art and writing of Tales from Moonshore, Lux brings not only their artistic skills to this project but also a deep love of all things Mausritter. Lux will be drawing every item mentioned in this project, we are talking 50+ items!
Purchase
In order to download this Bernpyle YEAR ONE you must purchase it at or above the minimum price of $25 USD. You will get access to the following files:
BETA - Bernpyle YEAR ONE Digital Zine(Still in Editing).pdf
198 MB
So you wanna build a Fortress Stretch Goal.pdf
448 kB
Wind in the Willows Stretch Goal.pdf
59 MB
Christmas Town Map.jpg
7 MB
Badger Burrow Map.png
4 MB
Bernpyle Character Sheet
3 MB